Bathroom remodeling project, like others in home renovation, come with a hefty price tag. Likewise, as a homeowner, even if you've got the help of a professional bathroom remodeler, there's a lot of mental work that unsurprisingly falls right on you.
So, before you start tearing up the floor, find design inspirations and popular upgrades first. You should define a style series with fresh and trendy design ideas to have a firm idea of what you want final remodel to look alike. At this preliminary phase, you don't have to strictly adhere to one particular type of design. Feel free to pick and choose elements from different styles to get a long list of popular upgrades.
While preparing the plan for your bathroom remodels, you should ask yourself what you're trying to achieve. Considering the type – master bathroom, powder room, kid's bathroom or whatever; imagine how you want it to look like and think about your intention of embarking on a remodel project.
Brainstorm you remodel that whether you just want to update the look of it or you'd also like to get a resale value, better functionality or perhaps a storage upgrade is all that you need. Jot down all your design and remodel considerations to get a perfect customized design style – a perfect match for your dream bathroom. To give you some design inspirations here's a starter:  
Also Read; Sticky Tile for Bathroom Walls
Floating Vanities
An anchored bathroom cabinet to the wall, creating an illusion of added space, is an easy yet effective way to give your bathroom a clean and modern look. Floating vanities give your bathroom a glamorous, minimalist, and luxurious look with many advantages that they offer.
Frameless Glass Showers
With enchanting, sleek, and stylish looks; frameless glass shower is one of the best bathroom upgrades you can make. With phenomenal looks that it brings to your bathroom, it also offers easy to install and maintain in the long run.  Frameless shower doors are a great addition because they open up your bathroom by allowing natural light to illuminate your shower.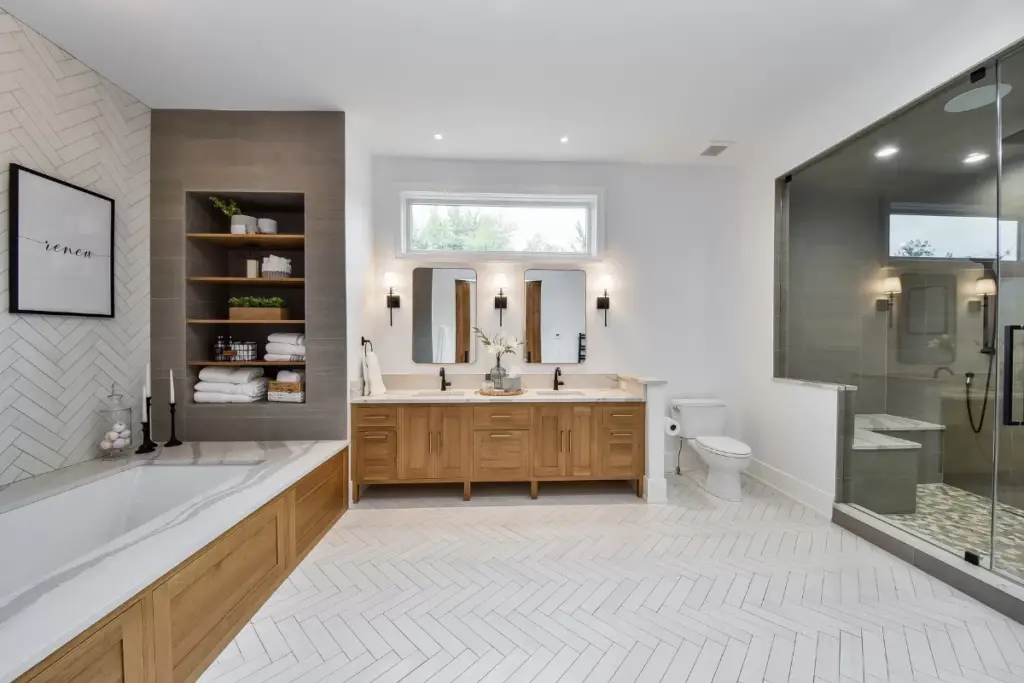 Radiant Heat Flooring
Radiant heat floors and bathrooms are a match made in heaven. This smart technology gives you a luxurious feeling with warmth underfoot for a chilly space. Even if you don't want to install a new floor, you get a layer of the soft area rug to greet your feet when you step out of the tub or shower.   
Medicine Cabinet
It is a small but most useful upgrade in a bathroom so your countertop doesn't become the next clutter zone. You can store small items like toothbrush, toothpaste, floss, and prescriptions in your medicine cabinet above your vanity. You've several options including recessed, surface mount, and corner mounts medicine cabinets to choose from.
A backsplash or walls covered with tiles
Installing a backsplash of glass mosaic tile above your vanity or even a tile on the entire wall or walls can be an affordable and easy bathroom upgrade. The tiles can give you a unique texture and coloring effect that is hard to get by a paintbrush.
Also Read:   Top 10 Home Renovation Mistakes
Vent Fans
You bathroom might already have an outdated vent fan, so it's a good idea to get it replaced with new innovative designs. These bathrooms vent fans should remove hot, moist air and odors out and improve the overall airflow.  
Shower Benches
While standing up in the shower is too taxing or getting in and out of the bathtub is too difficult. So, the best way to run off the risk of slipping and falling because of the wet floor is to get a shower bench. It's a small yet effective bathroom upgrade that can add value.  
Heated Towel Bars
Who doesn't enjoy being cloaked in warmth after a shower or bath? Electric tower warmers and heated towel racks are another cozy upgrades to your bathroom. The towel radiators will keep your linen nice and warm even after the wettest bath times.
Freestanding Tubs
These tubs are comparatively bit expensive than built-in tubs but you can get the deep soak to wash away the stress of your whole day. These lust-worthy bathtubs are been popular in recent years. They come in an incredible variety of size of shapes to give you the best enjoyable bath of your life. These freestanding tubs can be placed anywhere even in the middle of the bathroom under a skylight whereas traditional built-in tub requires more space and support of two walls.
Steam Showers
Imagine coming home at the end of the day and stepping into a warm cloud of soothing steam – a spa experience. These are pretty affordable relaxing and a perfect upgrade for a bathroom. Steam showers humidify steam generator that produces water vapor that in turn are dispersed around a person's body.
Skylights and Windows
 Gone are the days for gloomy and dull bathrooms lit artificially by old-fashioned lights. You now have several options for having elegant and stylish windows and skylights to improve the natural light of your bathroom.  Additionally, if you've got a bigger size bathroom; glazed doors and large windows are a considerable improvement in your bathrooms.