A bathroom is not only a place to wash away the worries of the day but is also supposed to be your private escape – a place to relax and pamper yourself with a shower or bath. How well a bathroom is put together aesthetically can play a major role in setting the tone for the rest of your home. A well-maintained, fully functional, and beautiful bathroom is beneficial for you and visitors coming to your home.
Anyhow, a bathroom is considered a tricky space with so many moving parts crowded into a tight outline; so, you should look for ways on how to pull off a successful remodel. It is of no doubt that an expert bathroom remodeler can provide you with years of pleasure and comfort whereas an amateur can ruin all your hard-earned investment. But even then you should watch out for several things in such a compact space; from toilets to sinks, from countertops to lighting, and from plumbing to electrics..
At this stage, you might be wondering about the timeframe when you won't be able to step in your bathroom during that all tearing-off process. To set an accurate bathroom remodeling timeline, it's important to know what your renovation will involve.
Also Read: How Long Does a Bathroom Remodel Take? – The Process & Timeline
If you plan to move plumbing or electrics it may lengthen the renovation timelines and may require city permits and board approvals. In general, for average remodels it take between two weeks to three months for the planning, execution, and wrapping up loose ends.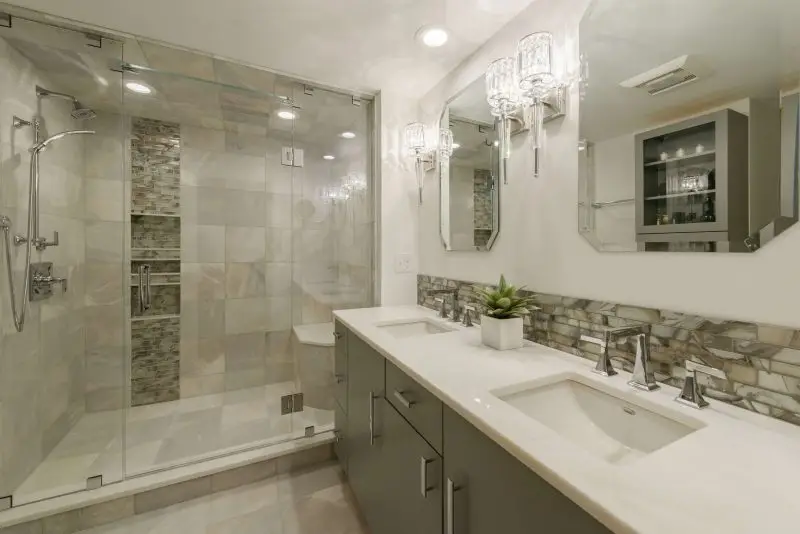 Preconstruction Phase
Before picking up the sledgehammer there's a lot more to do in terms of paperwork and planning. Detailed plans and a bathroom renovation checklist are prepared. The products are being chosen and the permits are sought where required.
 Construction Phase
Most of the time is taken by the construction phase where professional remodeler takes charge of the project and step in to start with demolition and ripping-off the old fixtures. As a guideline here is a basic timeline during the construction phase:
·        Cut the walls, rip-off the old fixtures and flooring
·        Frame and install shower pan
·        Tile the floor and paint the walls
·        Tile the shower
·        Install new light fixtures
·        Install vanity and toilet topper
·        Install sink, faucet, showerhead, and toilet
·        Tile the backsplash
·        Paint window trim and wall
·        Install accessories
·        Install shower doors
Post-Construction Phase
At this stage, the project is physically completed but before the final payment is made you should walk-through with the contractor. Try all the drawers, doors, windows and have a close look at each and everything. If you find a problem jot it down in a punch list and set up another time to return.
Depending on the items on the punch list and getting rid of those odds the final payment can be made and that's set.
Please make a note that the bathroom remodel timeline depends entirely on what you're trying to accomplish. The above-given timeline is just an example and your bathroom remodeling project doesn't need to fall into this timeline. Nonetheless, smaller re-renovations are will be completed faster whereas large renovations with extensive structural work may take longer time. Moreover, various obstacles may interrupt the foreseen schedule and cause delays.
Also Read: How to Budget a Bathroom Remodel: Ways to Save and Upgrade
Licensing or Insurance Requirements
To safely and legally proceed with the bathroom remodeling project make sure you have all the paperwork completed by your side. Because bathroom remodels require few trades and the Contractor thus needs to have a permit for this kind of work. Because you are going to manipulate the plumbing, water, and electric fixtures, you should only go for a licensed contractor and even all the trade subs for your bathroom remodel to be insured and guaranteed.  Bathrooms are actually tricky and no one knows when things go south, so aim for the contractor with a proper licensing for all the trades.