Your air conditioning unit works tend to struggle most in hot weather for several months a year to take off the annoying heat from your home. So, to make sure that the AC remains in a top-notch condition; your ac needs regular tender loving care.
An AC unit working with perfection and blowing chilly airs in your home is the best thing to have in Dubai. Likewise, the worst thing that could happen on a hot afternoon in Dubai is to have an AC crash.
If you're experiencing common ac problems like it is giving a smell or a suspicious noise or it is not cooling properly or it is blowing warm air, then immediately seek help from a professional ac repair company. It is never recommended to troubleshoot the issues yourself because you might temporarily solve the problem but it would come out again impulsively.      
It's always handy to get familiar with the common AC Problems that would not only help you in diagnosis but can also let you save some money and restore your comfort.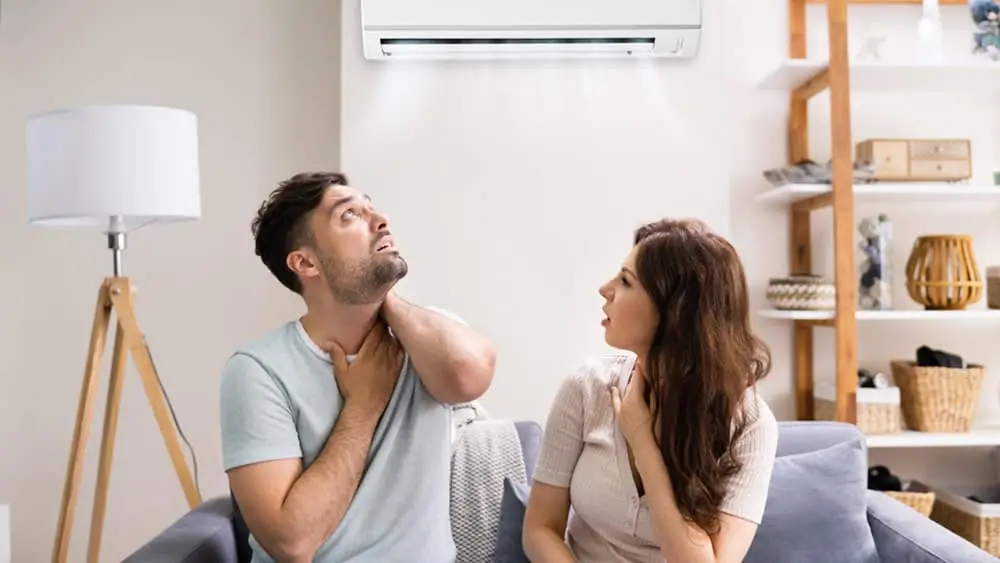 Check Air filters
To keep your ac breathing with fresh air make sure air filters are not clogged. Dirty air filters can restrict airflow thereby decreasing its efficiency and reducing the ability to effectively cool the air. If you're feeling your ac is not cooling as well as it used to, chances are that your ac needs filter replacement.  
Check Thermostat
If your thermostat would be too high the condenser would not run. The thermostat controls the temperature of your home. With a programmable and smart thermostat, you get a comfortable temperature when you're there and a bit higher when you're not. The thermostat, it is exposed to direct sunlight, it may cause it to register the wrong temperature.
Check air conditioner circuit breaker
If your AC won't turn on at all, then you most likely have a blown circuit breaker or fuse, improperly set or faulty thermostat, or an internal switch being off.
Check outdoor unit
If the outdoor AC unit makes buzzing, humming sounds, as though it wants to turn on but it can't, the capacitor may be defective. Sometimes, AC compressor makes hums which can be because of low voltage transformer on the unit or because of faulty mortar that can overheat and shut off your outdoor unit.
Check vents
With closed or blocked air vents, your ac would struggle to cool your home. The evaporator coil would freeze and there would be ice on refrigerant lines.
These are only a few of the common problems that you may face, there are even more problems that are hard to diagnose. If you're stuck with an AC problem and find it hard to diagnose, hire best ac repair shop through our app today.  
Cost of AC Repair
We know the cost of AC repair in Dubai is quite high but our professional technicians offer at reasonable rates so you don't have to break banks. The cost of AC repair and service depends on a lot of factors like the type of AC units installed, location, and nature of the fault. The repair price for window AC may be lower than that of the deco-split unit but it all depends on the nature of complication in your ac unit.  
Although, it is wise to hire a bit costly ac repair service from a licensed professional rather than hiring a cheap untrained ac repair shop that would even make it worse. On our app, you'd get first-rate AC repair and maintenance services at highly competitive rates. Our eco-friendly AC repair service has already helped several customers in saving much in their energy bills.
Guideline on Selecting the Right AC Repair Service Provider
Selecting the right AC repair service is the most daunting task and is critical to work with the right company to get the right quality of work. You might be like so many other homeowners who haven't hired an AC repair company in their lifetime. This lack of experience elevates the chances of hiring the wrong company. Nonetheless, the following are the guidelines to put into consideration when selecting an AC repair company:
1.   Go for the companies that are determined to render high-quality services and read their customers' reviews as an assessment. A company is highly rated, it means the company offers good services and you should choose them.
2.   Look for the demand. The company offering reliable AC repair services would be high on demand.
3.   Look for the portfolio. A company with trained and certified experts attracts more people.
4.   Check the availability. If the company has less number of workers as compared with several customers. It would be impossible for them to meet the needs of the clients faster.
5.   Affordability: Cost is also a crucial factor. It is wise to collect quotations from different AC repair companies but it is not always right to hire the lowest quote.