Does your job calls for working with power lines or you need to perform tasks that are far above the ground? With Cherry Picker elevated work platforms, you can take the hassle out of the project.
 I'm glad that you've decided to get a Cherry Picker to raise you high into the air. Pat yourself on the back, because this amazing aerial device is going to make your life and work easy.  
However, depending on your project needs, the cherry picker can be an expensive piece of equipment and thus, it's always hard and critical to decide whether to hire, take on rent or buy it. So, in this read I'm going to shed some light on cherry picker rental, hire, and buying the best practice to pocket more money.
Cherry Picker is used as an elevated work platform in different work situations in various trades and professions.  They have got a bucket or platform at the end that raises the workers into the air utilizing hydraulic life system. They've diverse and multitude applications, from washing windows and painting at one end to mining, manufacturing, shipbuilding, and cable services at the other.
Cherry Picker – One machine, countless applications
Also known as a boom lift or a basket crane, a cherry picker is a trailer-mounted boom lift with four outrigger legs that can be towed to a location. Originally developed for fruit picking as the name suggests, other names for cherry picker are hydraladder, basket crane, and man lift.
Cherry Picker comes in several different types including truck-boon-mounted, telescopic booms, articulated booms, and trailer-mounted booms. Most Cherry pickers are not self-propelled; instead, they are to be mounted on the back of the large vehicles like a truck, trailer or a van.
If you're in the construction industry or a fire fighting department; cherry picker can make it possible for you to reach building exteriors from angles that would be impossible to manage otherwise. Same goes for electricity and telephone company operators that need to deal with downed lines or to run new lines when needed.
Whether you're looking to repair facade, trim high tree branches, clean windows, pick cherries/fruits, fix roofs, or take aerial shots for cinematography; cherry pickers are best alternatives to scaffolding. It provides efficient, easy and safe access for hard-to-reach areas at heights. With long extendable arm and stabilizing outriggers, it has revolutionized the way of reaching and rising to awkward and previously inaccessible locations.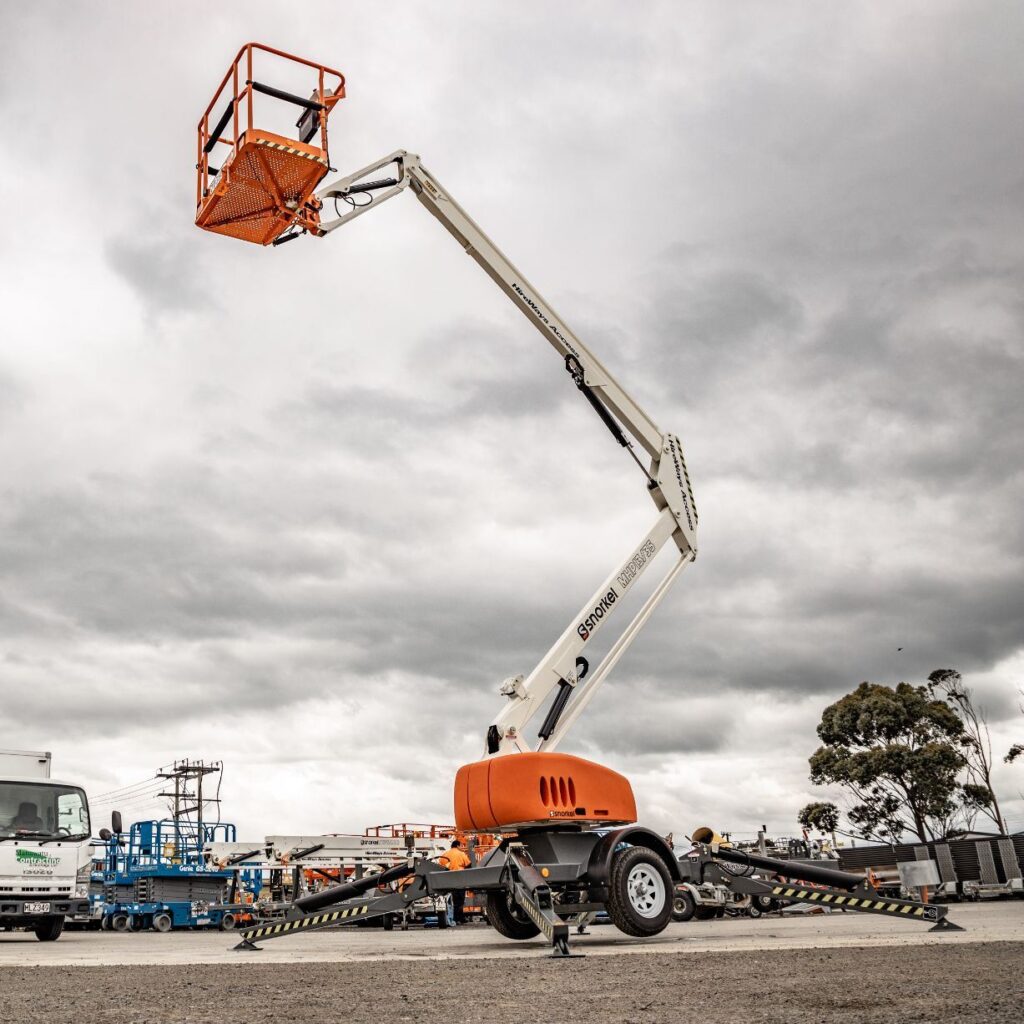 Should you go for cherry picker rental?
Rental makes sense when you've specific intermittent jobs and seasonal peak business period, and you required to speed up your work to meet targets of your project. Renting is an affordable choice and is much easier on the budget for sporadic jobs and short-term solution as compared with investment in the full cost of the equipment. Besides, if you're looking to experiment with another model or a type of cherry picker to see if you can get a boom in productivity, it's better to go for a rental.  
There're a lot of compelling reasons why cherry picker rental makes more sense. Can your company afford to pay about $80,000 to $150,000 for a brand new cherry picker? The rental cost offered by good rental firms is mostly in order of $500 to $1,000 per week. Such a dramatic price difference makes renting a great option, giving you improved cash flow and an opportunity to invest in core areas of your business.
Renting also gives your business the flexibility. You don't have to worry about storage and transport issues, especially if you're operating in urban areas. You can add or reduce your fleet keeping in view the pace of your business and you can enjoy new innovative models without worrying for depreciation and maintenance costs.    
However, for large companies with long-term requirements cherry picker rental is going to be expensive as compared with lease or purchase options. It is so because the rental includes the cost of maintenance and the dealers have to cover the cost of idle time for the cherry picker between rental assignments.
Also Read: How the construction industry is feeling the pinch of the labor shortage?
is Cherry picker hire a good choice?
You can go for a cherry picker hire or leasing when you require it for a long term usage but doesn't want to pay the whole price. The cost of cherry picker hire depends on many factors including delivery time, model, maintenance, and cleaning fees.
The delivery cost is to be borne by you so it is always useful to save money by approaching the nearest hire shop first. The best way forward is to prepare a list of nearby local hire shops and compare the total price offered and once you've selected a suitable shop go back to hire from it.
The large cherry pickers are only rented to companies who have their qualified operators and can cover insurance cost themselves. Anyhow, hiring a cherry picker opens up horizons to the job you are working on.
Besides having access to updated equipment at all time, you can save a lot in terms of costly regular maintenances. Cherry picker does need regular hydraulic, electrical, and engine maintenance like other machines. Although it varies from state to state, generally hiring is a tax-deductible operational expense so you've got the tax advantage. 
The monthly cost for hiring an articulating and telescoping cherry picker varies from $1500 to $5500 depending on the size of the machine. Articulating cherry picker has more hire cost than a telescoping cherry picker.  
However, if at the end of the hire term, you choose to purchase cherry picker, it will end up costing you more in total than initially purchasing the machine. The hire agreement bounds you in terms of allowable hours of usage and there are penalties for overuse.
So it is very important to investigate the supplier's reputation and capabilities before tying in a hire agreement. You should clarify all the terms including maintenance agreement and compensation for the downtime.
Also Read: Important Aspects of Construction Projects
Cherry picker for sale
As mentioned prior, if you're a big company that has a preference for owning all its capital equipment then buying cherry picker is the way forward. It is cost-beneficial for those companies who are consistent with its usage in such a way that rental fees top the costs of owning, maintaining, repairing, transporting, and storing.
Although you have unlimited access to cherry picker but in case it broke down, you have to find a way to haul it to an area to be services and pay additional money to rent a machine for temporary use if you don't want to miss your deadline.
Similarly, because you've purchased costly equipment you'll have to stick with it even if new technologies are out there in the market. In such case, you don't have the ability to upgrade as often as a rental company without losing significant money in the process.
In the Nutshell
Companies requiring a cherry picker look at the rent-hire-buy decision through their own perspective.  So don't jump at a conclusion, take your time, consider available options, and make the best choice for your business.