In Toronto, where heavy snowfalls and freezing rains are frequent during winter, the issue of snow guards for houses with metal roofs is often raised. The accumulation of ice and snow on the roof can reach substantial weights, sometimes measuring in hundreds of kilograms. When the snow starts to slide, it has the potential to cause extensive harm to the lower roof, gutters, landscaping, vehicles, or even pedestrians.
To mitigate the risk of rooftop avalanches, it is recommended that property owners in Toronto install snow guards on their metal roofs.
These protective devices, known by various names such as ice breakers, ice stops, ice rakes, snow stops, snow blocks, or anti-snow barriers, serve the purpose of preventing large, uncontrolled snow masses from sliding off the roof. By breaking down the melting snow into smaller, manageable chunks as it descends the snow fence, the potential for a destructive and sudden release of snow is significantly reduced.
Metal snow guards are widely utilized in Ontario, Canada, including the city of Toronto. These snow guards are easily and readily available in different material like, copper, plastic or polycarbonate, galvanized steel and aluminum.
Among these options, roofing experts suggest the use of galvanized steel guards due to their robustness, longevity, and affordability. Conversely, plastic and polycarbonate snow guards tend to become more fragile over time, developing chips or fractures.
Aluminum snow guards are not designed to handle substantial snow loads and are not considered heavy-duty.
On the other hand, stainless steel and copper roof safety systems are more costly but offer an extended lifespan comparable to, or even exceeding, that of the metal roof they are installed on. Independent research studies have confirmed that metal roofs have a significantly longer lifespan of over 50 years compared to other roofing materials.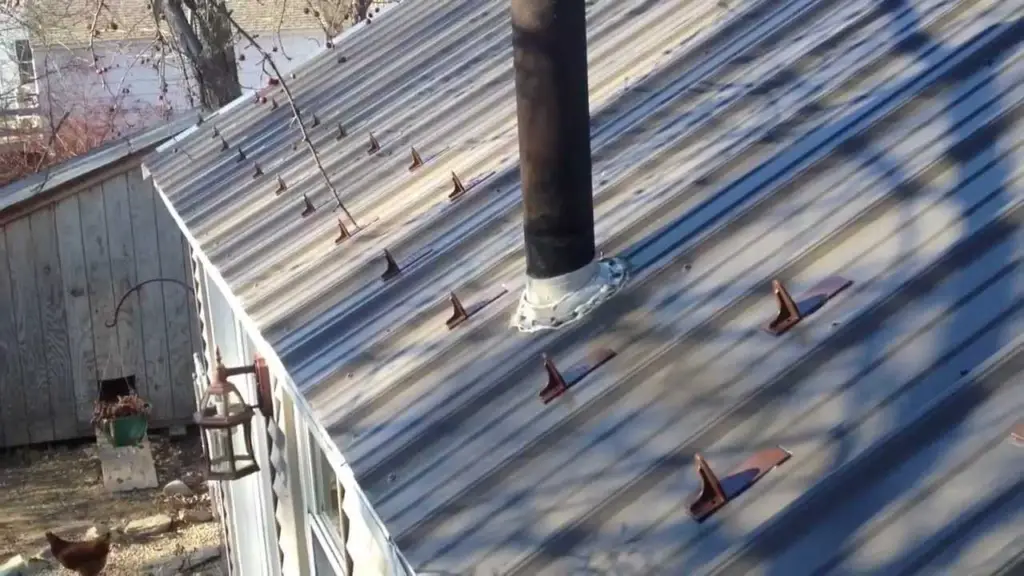 Also Read: Roof Vent leak during heavy rain – Why it happens? Here's how to fix
How is the working of Snow Guards?
Centuries ago, people living in cold regions would place stones and logs on their roofs as a method to increase friction with the snow. This approach aimed to facilitate a controlled and predictable flow of snow through evaporation and thaw, rather than risking a sudden and dangerous rooftop avalanche. These pipes are strategically installed based on specific calculations to ensure their effectiveness.
Roofing experts provide European tubular snow guards that are secured to the roof using four brackets per every ten feet. These guards can be attached to the ribs of standing seam profiles or fastened with screws to lumber, plywood, roof trusses, regular shingles, metal tile panels, and straight rib panel profiles.
Pre-Eminence and Cons of different types of Snow Guards
When considering ways to enhance roof safety, it is important to understand the distinctions between various types of snow guards. Let's take a closer look at two popular options: metal and plastic snow holders.
In the roofing market, there are numerous solutions available for protection against heavy snowfall. The key differentiation lies in the material used for the snow guards. Metal snow holders are typically the most expensive due to their corrosion resistance and compatibility with any type of roof. Furthermore, stainless steel or copper snow guards have a lifespan that is comparable to that of a metal roof, lasting over 50 years.
Also Read: Can You Put Heat Cable on a Metal Roof? Exploring the Benefits and Considerations
Stainless Steel Snow Guards
Advantages:
This particular snow retention system exhibits exceptional durability and has the capability to function for the same duration as the underlying metal roof, which is typically over fifty years.
Tubular stainless-steel snow catchers can be conveniently and quickly installed on a wide range of roof types. These snow catchers are commonly seen on high-end roofs, including slate roofs.
The efficiency of this system lies in its tubular arrangement, which enables it to withstand even the most substantial snow loads. Moreover, this arrangement prevents the snow or ice from descending in large chunks or causing avalanches.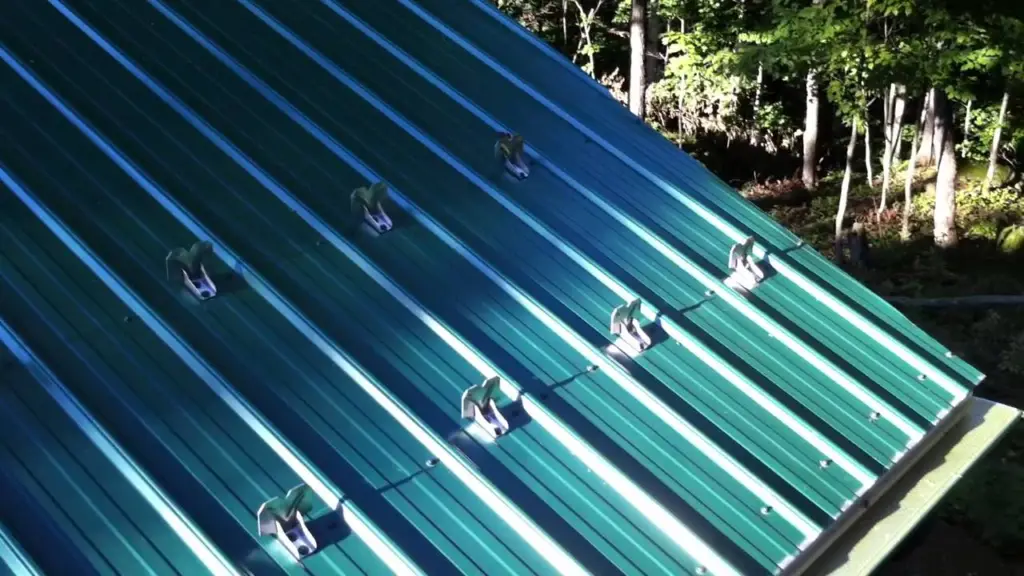 Disadvantages:
These particular snow stoppers are priced at a higher range due to the cost associated with the metal used in their production. The metal undergoes several intricate processing stages, resulting in a product that is exceptionally sturdy and long-lasting.
Aluminum Type Snow Guards
Advantages
This retention system comprising of Aluminum is a economical-friendly option.
Easy to install on most of the roofs
Due to ease of installation it can be installed on majority kinds of the roofs.
The advantage of snow stoppers is that they are perfect for holding snow on the roof and avoid any damage to the property around the buildings.
Cons of Aluminium Types Snow Guards
A lot of energy is used for the production of aluminum due to which it makes aluminum metal most expensive metals.
This metal is susceptible to climate change especially near water or sea and leads to corrosion.
Steel Snow Guards
Pros of using Steel Snow Guard
The installation of this system is straightforward and can be done on virtually any metal roof. Additionally, it exhibits superior capabilities in dealing with various types of winter precipitation.
This snow guard holder withstand climatic conditions like weather, wind, snow and ice.
It is highly competitive in cost while maintaining high quality.
Variety of Colors
There are variety of colors available for this type of snow guards and it can easily match any style of your house.
Cons

If a manufacturer compromises on quality, it may lead to issues of corrosion. However, this is never a concern with snow guards provided by Roof Experts.
Copper Snow Guards
Advantages of copper snow guards
Pros
Due to its heavy weight, copper metal holder are tough against force of nature.
Sophisticated and stylish appearance.
Copper catchers, in addition to their durability, also exhibit a visually appealing appearance when installed on copper roofs.
Cons
This system fits only on the copper roof system.
This system is very much expensive
Plastic Snow Guard
Pros
Inexpensive and ease of installation
The advantages of plastic snow guards cease to exist in comparison. Based on feedback from our customers, polycarbonate devices are unable to withstand even minimal snow loads. They have a tendency to be dislodged, potentially causing damage to the roofing material or deteriorating under prolonged sun exposure.
Cons
These affordable holders are relatively recent additions to the construction market. Polycarbonate devices are indeed inexpensive and simple to install. These stoppers are constructed from transparent plastic and can be attached to the roof using specialized adhesive.
| | | | |
| --- | --- | --- | --- |
| Type of devices | Price | Durability | Life   Span |
| Stainless steel snow guards | High | Heavy-duty durability | Life time |
| Aluminum snow guards | Fair | Practical solution for the roofs | Over 50 years |
| Steel snow guards | Fair | Practical solution for heavy snow load. | Over 50 years |
| Copper snow guards | High | Extremely durable as well as exceedingly costly. It is advised to use this kind of snow guards on the copper roofs. It guarantees the uniformity of style and metal safety | Lifetime |
| Polycarbonate / plastic snow guards | Low | Cheap and not reliable. We have seen many clients asking to swap them for the metal ones. | A few years |
| | | | |
| --- | --- | --- | --- |
| Type of devices | Price | Durability | Life span |
| Stainless steel snow guards | High | Heavy-duty durability | Lifetime |
| Aluminum snow guards | Fair | Practical solution for the roofs | Over 50 years |
| Steel snow guards | Fair | Practical solution for heavy snow load. | Over 50 years |
| Copper snow guards | High | Extremely durable as well as exceedingly costly. It is advised to use this kind of snow guards on the copper roofs. It guarantees the uniformity of style and metal safety | Lifetime |
| Polycarbonate / plastic snow guards | Low | Cheap and not reliable. We have seen many clients asking to swap them for the metal ones. | A few years |